"A photograph doesn't exist until it has been printed"
Classic Framed Wall Art
The traditional framed wall art products are timeless. They are hand made here in Australia. They feature acid-free materials to ensure your art lasts for 100+ years.
Sized up to 40" x 60"
Acid-free
Choice of mouldings and profiles
Stunning premium Cotton Rag paper
Double washed glass
Stainless Steel Wire
Prices start at $395 for an 8x10" print size (Matt and frame extend the overall product size) and go up to $2495.
Box Framed Canvas Wall Art
A modern finish to a traditional canvas. This really is a beautiful product. Printed on archival canvas and framed in a hardwood double profile moulding. Hand made here in Australia.
Archival canvas and pigment inks
Hand cut hardwood profile frame
Three finishes to choose from
Satin Laminate protects against UV
Sizes up to 60" x 120"
Prices range from $455 up to $2495. Our popular 20" x 30" boxed frame canvas costs $850.
Collections
Wall Art collections can be custom designed to fit the space you intend to display your images in. They come in Canvas, Wood Print and Acrylic and are designed to allow you to arrange at your leisure.
Prices start from $1850. Shown here is the Jura collection at $2495.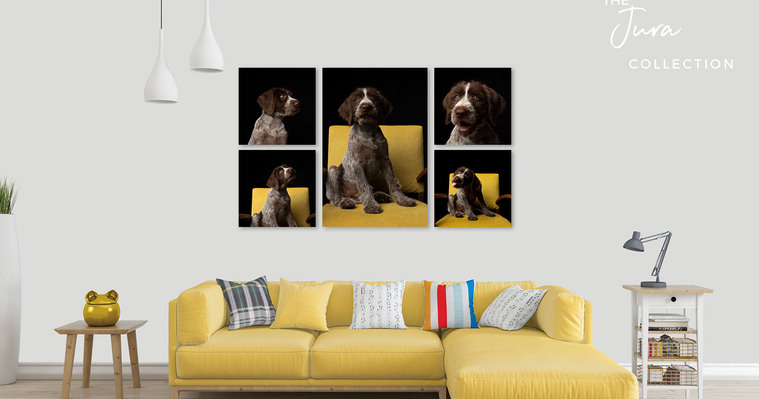 ICEMount - Acrylic Print
First, your image is printed using archival quality inks on professional gloss photographic paper. Then it's sandwich mounted using non-yellowing pH-neutral adhesive. The plexiglas is premium, photo-grade and guaranteed against discolouration, or UV-related fading for 30+ years. All Icemounts are finished with in-house diamond polishing, buffing and a final hand polish!
Acrylic prints range from $455 up to $2495
Fine Art Prints
Printed on to the finest cotton rag paper, these 8x10" fine art prints come mounted in an 11x14" archival matt (acid free). They can be purchased individually or in groups of 5 to be displayed as shown with the Display Easel or in our Signature or Premiere display boxes.
Perfect for customers who are in a rental property or don't have wall space to display wall art. Fine Art Print collections of 5 or more also receive digital copies on a USB.
Single image shown with display easel costs $260.
Timber Panel Prints
We take a beautiful photographic print and mount it onto a 20mm raw dark-edged timber panel. We finish off the Timber Print with a matte optically clear laminate for extra protection and a beautifully soft finish.
Available in any size from 8″ x 10″ to 60" x 120"
Available with three edge-finishes (square edge, rounded edge, circle prints)
Moisture resistant and long-lasting
Prices start at $395 for an 8x10" print size with the most popular size (20" x 30") print costing $740.