Session Fee
I believe in being transparent with my prices so we will discuss these throughout our conversations. The first thing to know is that there is a session fee. To book in a session it costs $135. The cost of this is applied as a credit to any products you choose over $740, so it is essentially a free session.
What's included?
The session fee covers our first meet and greet and the photo session. There are no time limits on the photo session. If it takes a few hours to get the incredible images we need, then so be it, there are no additional costs.

For more than one pet, there is an additional $25 fee for each four legged friend. So if you want to book in more than 1 pet, let me know and be sure to add it to the cart when booking.


Wall Art Costs
The cost of wall art depends on the size and medium you select. These prices are discussed in Step 1. We can get a better idea when we know where you intend to display your art work.
You can choose to invest in the minimum amount for a small matted print at $185 or you can go all out with the Jura collection at $2495, shown here.

Typically though, my average customer will spend somewhere in the $740 - $1295 range.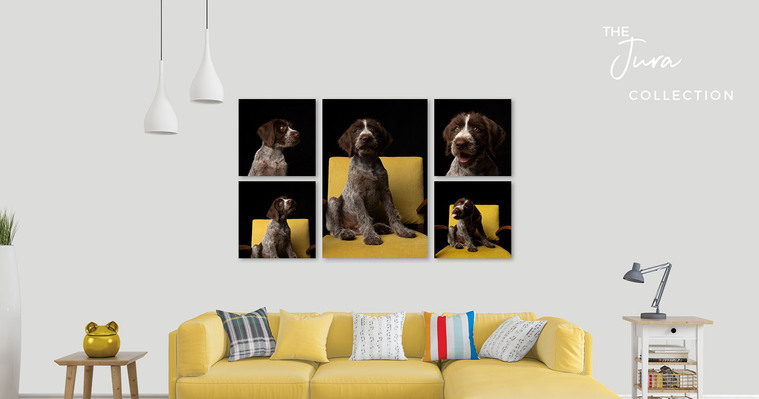 My Guarantee
I want my customers to rave about the experience, the images and the products I provide. I want you to shout from the rooftops about how good it was so that your friends and family hear you and want to experience the same joy, the same attention to detail and the finished product. If you aren't ecstatic about the images we've created then I'll re-arrange another shoot free of charge.
In addition, boxed framed canvas products come with an amazing 75 year unconditional guarantee. This provides a life-time replacement warranty at any point (includes accidental damage & freight damage). I will store your printed files in archive at no additional cost should this need eventuate.